Arabic perfume names, In ancient history, incense was the first form of perfume known to the ancient Arabs
The ancient Iraqis in the Mesopotamian civilization discovered incense for the first time
Then the tradition took place for them to burn types of resin and wood in their religious ceremoniesز
As they were known to rub their bodies with a fragrant liquid that they made from soaking aromatic woods in a mixture of water and oil.
Trade in the Islamic world witnessed in the ninth and tenth centuries AD a remarkable activity that contributed to the increase in agricultural and industrial production
This coincided with the strengthening of trade relations between the Abbasid state and India and China.
This was the reason for the development of many industries, the most important of which is perfumery.
The Arab method of perfumery was to drip floral crowns with water
It is by placing glass chips in wooden frames, wrapped in pure fat and covered with flower crowns one on top of the other
The crowns are then changed from time to time until the pure fat absorbs the required amount of fragrance
The most preferred Arabic perfume names with details
Kalimat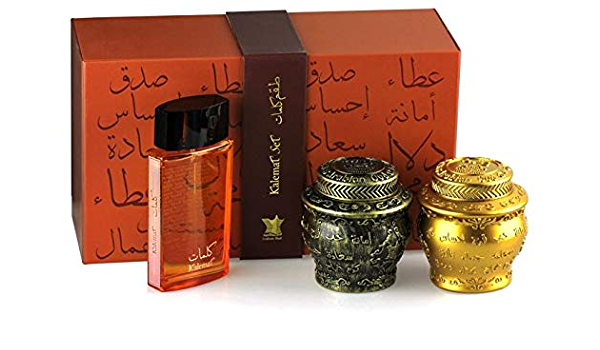 With a scent that fascinates the senses, Kalimat Perfume is one of the purest, most exciting, and alluring perfumes in the world of perfumes.
The opening notes of the fragrance start with anise berries, which give fragrant showers throughout.
Moments later, the scents of woods begin to give an elegant magical touch to every seeker of scattered desires.
While the base of the fragrance is crowned with the scent of honey and amber, giving an impression and imprint unmatched.
Sehr Al Kalemat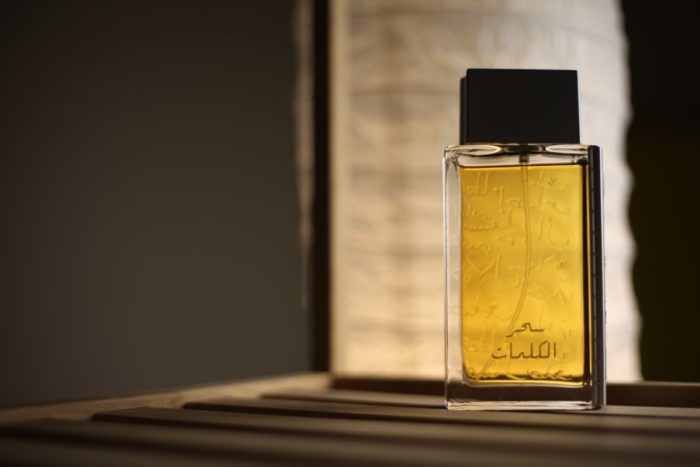 This Arabic fragrance carries a pure oriental tone with notes that smells intriguing.
The opening notes of the fragrance begin with the aroma of patchouli, violets, and bergamot, giving a scent that gives you an aura of comfort.
Moments later, the vanilla begins to form, giving the fragrance a fragrant note that captivates the senses.
Before drying, the notes of amber and musk give off an incomprehensible aroma full of mystery.
What creates a twinkle inside the lovers of Arab perfume names.
Arabic perfume names Ehsas
The opening notes of the fragrance start with bergamot and apple, followed immediately by the scents of lily of the valley, roses, and jasmine.
Before drying, the notes of vanilla, cedarwood, and amber give a fragrant aroma that cannot be resisted.
This is what makes it one of the most luxurious and finest names for luxurious men's perfumes.
Besides, Ehsas perfume will carry a fragrant scent that vibrates with the senses that sparkle between the notes of the names of perfumes.
So if you derive the words and tones from a luxurious men's fragrance.
Ehsas perfume will increase your brilliance and luster in the world of perfumes.
Mashaaer Al Fezzi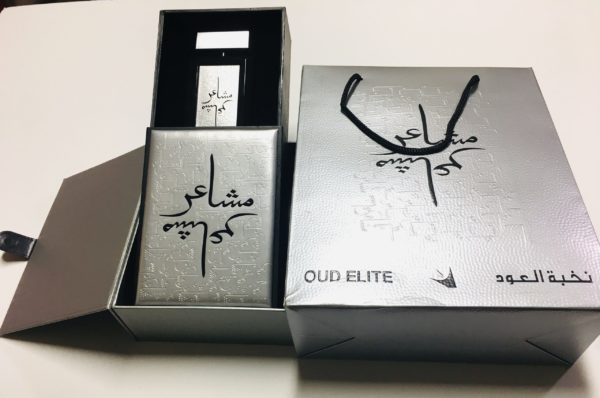 The perfume creates a sensual aroma that is perfect for mild and cold days.
The opening of Masha`il Silver perfume begins with the orange flower
This gives the perfume a unique scent that is racing to satisfy you.
Complement the elegance of the fragrance with the fragrant fruity scent that creates a unique and unusual scent for you.
However, the notes of Mashaer perfume contain love mixed with a pure Arab oriental imprint.
This is what made this fragrance one of the most prominent names in Arab perfumes for men.
Arabic perfume names Madawi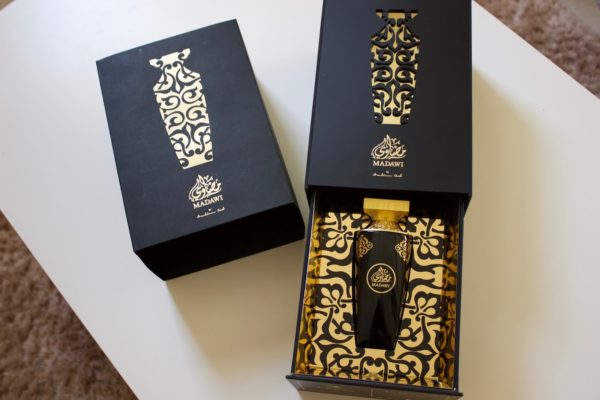 Madawi perfume exudes a fragrant scent that delights the senses
This secret is in being one of the most luxurious names for Gulf perfumes, which overflows with the scattered notes of sand.
Madawi from Arabian Oud opens with peaches with apples
Followed by the fruity notes that form in pineapple and jasmine
Accompanied by the scent of bergamot orange blossom, giving a unique flavor.
The smell of patchouli and musk, also to vanilla and amber, emerges, and this creates the secret and efficacy of Madawi perfume.
Even so, Madawi perfume offers wonderful showers with a sense of elegance and luxury.
This creates a captivating impulse.
Mashaer Al Dahab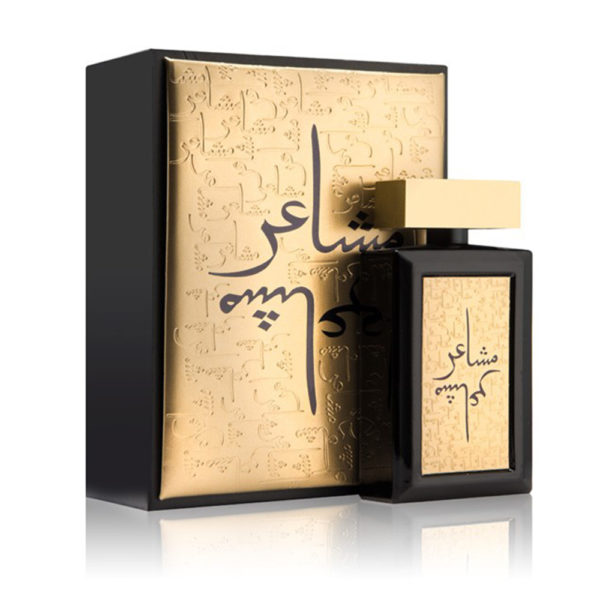 It boasts calm tones replete with a unique scent that accompanies the wearer to a world full of notes scattered in a world full and even saturated with the scent of vanilla.
The opening notes of Mashaer perfume begin with lemon, peach fruits, pineapple, and apples, which form a unique aromatic scent.
Moments later, the scent of jasmine flower and cardamom emerges, giving a distinctive attractive scent.
The vanilla juxtaposed with the patchouli flower creates a scent that fascinates every lover of luxury Arabic perfumes.
Moreover, this fragrance is ideal for occasions and evenings.
This is what made it the best name for men's perfumes.
Arabic perfume names Celine Magic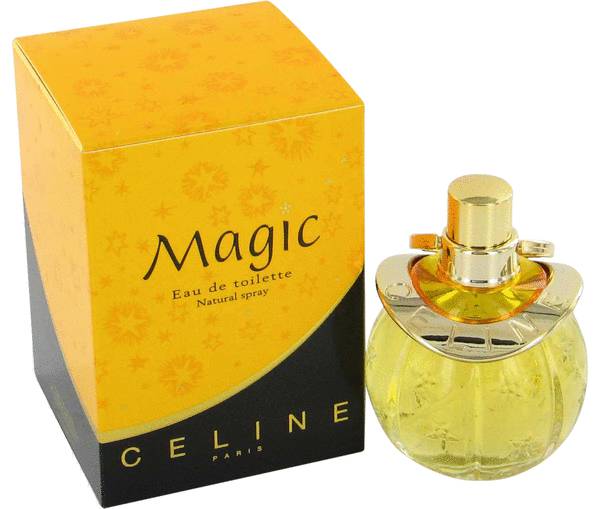 One of the best Celine perfumes that appeared and attracted every perfume lover.
This Celine perfume appeared in 1996
Summarize the ladies with the signature of well-known perfumer Sophia Grojsman.
The fragrance of this fragrance is enriched with woods and flowers, followed by some sweetness.
Celine Magic opens with pear, orchid, and clementine
Besides roses and coriander
What gives surprising feelings and attention.
Moments later, the scents of jasmine and lilies of the valley begin
This gives a fragrant touch that stays in the mind of those who touch their senses.
Woody aromas begin to emerge with amber, sandalwood, and patchouli, in addition to musk.
This gives a breath that captivates the senses and caresses every nose that craves the scents of aromatic woods.
Celine Magic perfume is one of the best summer perfumes ideal for hot and spring days
It has a magical touch that imitates the elegance and style of every aspiring woman.
Celine Fever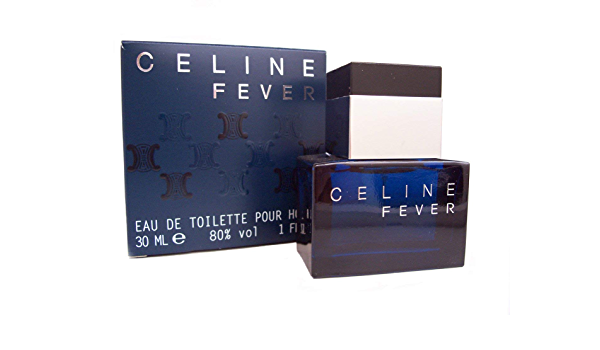 If you prefer oriental scents with a persistent, attention-getting scent.
Celine Fever is one of the best women's perfumes
This fragrance captures your senses and takes you to a world full of beauty and elegance.
Celine Fever appeared in the year 2005, created by the famous perfumer Beatrice Piquet.
The opening notes of the fragrance are citrusy and floral, which are formed from red oranges and mandarin.
Followed by a sprinkle of Indian jasmine, giving an unparalleled tone and scent.
Vanilla and sandalwood create a unique, unparalleled scent
It is followed by an interesting scent of amber.
Celine Fever creates a strong, intense scent with an elegant, magical touch
This is suitable for every woman who is looking for a very attractive and sexy female fragrance.
Celine Celine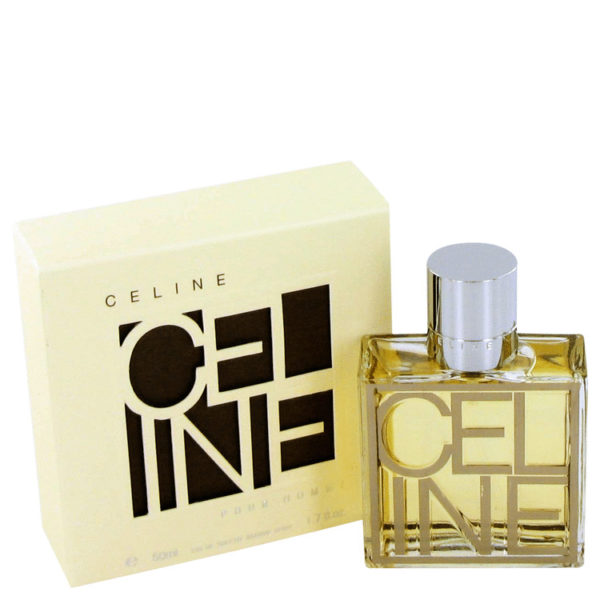 If the scent has a title and the words have a meaning
Celine Celine perfume is one of the best men's fragrances with a floral aroma.
Celine Celine perfume appeared in the year 2001
With a puff of fruits with excellent sentimental notes.
Celine perfume was signed by perfumer Christiane Plos.
The fragrance opens with a fruity scent that is embodied in pear, red berries, and black currant
In addition to violet and bergamot leaves.
Moments later, magnolia, freesia, jasmine, and iris begin to appear
This is what gives off an attractive, irresistible scent.
Woods form a fragrant aromatic base
As sandalwood, vanilla, and sticky stick are added to incense
Soft and refreshing aromatic notes.
This Celine perfume will be especially suitable on cold and rainy sunny days.
It will also go well with formal occasions.
Oriental Summer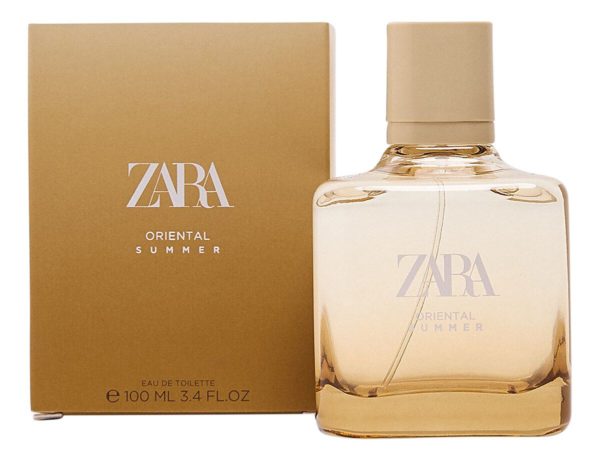 It is one of the best feminine fragrances with firm and deep puffs.
It smells breathtaking with a burst of fragrant aromatic pulses.
He appeared in 2003
Since then, all-female perfume lovers have collected oriental notes.
The fragrance opens with pepper and almond
Besides tangerines, it gives a fragrant flavor and aroma.
After a while, the heliotrope and iris flowers begin
Also to jasmine, it creates persistent floral notes.
Amber and vanilla create a creative scent that creates an unparalleled experience.
This Celine perfume for women is one of the best-established fragrances that make for an elegant touch of magic.
It will also fit nicely on cooler autumn days.
Celine Knight Clubbing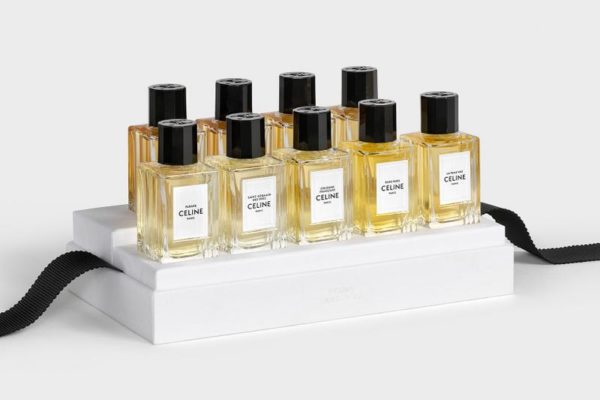 Thanks to its soft, soothing tones that create a purely classic atmosphere
Nightclubbing is one of the best fragrances for both men and women.
This fragrance blends notes of wood and vanilla
This creates an aromatic scent that dazzles everyone who touches his senses.
This fragrance has an oriental being
It is one of the newest Celine perfumes with a rare aromatic scent.
The main notes of this Celine perfume are galbanum and iris
In addition to vanilla and patchouli, which has an earthy, mysterious scent.
In addition to moss and musk
What gives a tone and a calm feeling is described as the most beautiful in the world of perfumes.
This Celine perfume will suit both men and women
It can be given as a gift.
In addition to that, it is used on nights and evenings.
It is also recommended to wear this perfume in springtimes and days.
Hyayati perfume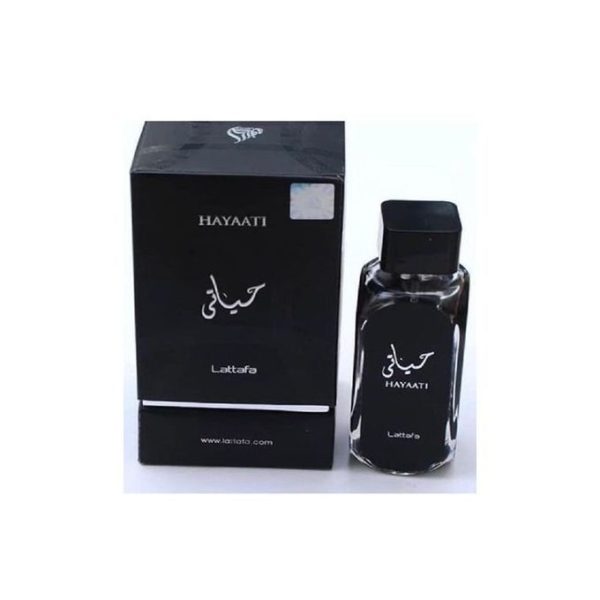 Hayati perfume from Arabian Oud is considered one of the best Arabic perfumes
It sneaks inside every lover of Arab perfumes.
Hayati perfume mixed with original notes that give it an incomprehensible glamor.
The components of Hayati perfume are made of bergamot flower extract and mandarin fruits
Add to the jasmine flower.
What gives a distinctive attractive scent is irresistible.
The notes of this fragrance are complemented by a mixture of sandalwood, vanilla, and amber musk
This is to give a scent that stays in the memory.
Hayati perfume fits perfectly with occasions and daily use
This is what made it the most appropriate and wonderful fragrance for all lovers of Arabian perfumes.
Prestige perfume
It is one of the best perfumes of Arabian Oud
It matches amazingly well with aspiring men.
This Prestige perfume flaunts a charming oriental fragrance that gives an indescribable luxury.
It opens with notes of laurel leaves, oriental flowers, agarwood, and sandalwood
Accompanied by the scents of cinnamon, saffron, oriental spices, and patchouli flower
What creates a scent stays in the memory.
The description of the fragrance within Fint and impulses of the perfume world as being a prince who deceived and defrauded various perfumes to be crowned a king in the world of perfumes
Nonetheless, Arabian Prestige fits nicely in the opulent ambiance with an original flair.
Cashmere perfume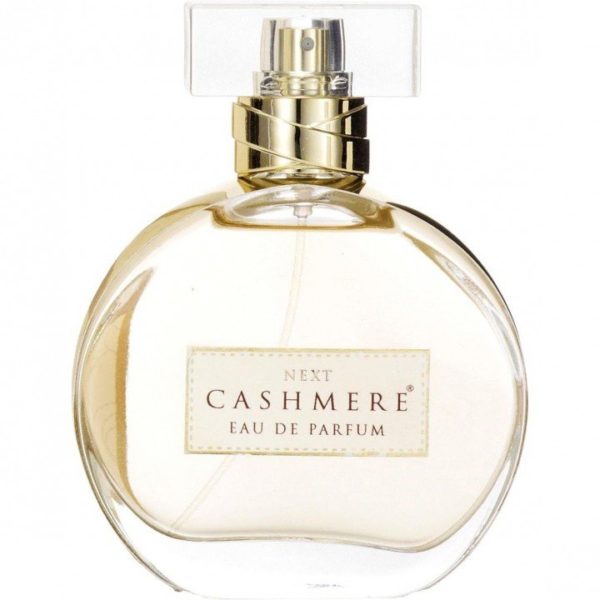 With a unique scent of fragrant natural
Cashmere scent infiltrates incomprehensible notes to create a fragrant scent.
The scent of cashmere perfume forms among the banks of the Yangtze River
To take hold in the minds of everyone who picks it up.
The opening of the Cashmere perfume by Arabian Oud begins with the smell of cranberry
It is followed immediately by the scent of pink rose and jasmine
What creates tones that regularly creep into every lover of luxury perfumes.
After a while, the aroma of oud and vanilla begins to emerge, creating notes that fascinate the senses
It takes you smoothly to the world of Arabian Oud perfumes.
Arabic perfume names Donna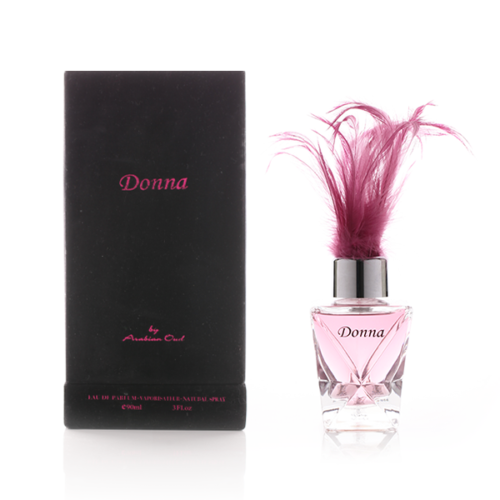 With a rich aromatic scent of red apple and aromatic roses
Donna perfume comes from Arabian Oud with a mixture of showers and notes that give women a magical touch
Imitates the elegance and style of Arabian Oud Fragrances lovers.
Donna perfume is formed from a breathtaking scent that blends elegance and modernity at the same time.
The notes of Donna by Arabian Oud embody the scent of raspberry and orange
Accompanied by the scent of the valley flower
What creates impulses that stick to the mind.
This is what gives the Khaleeji lady a spirited and lively scent
It coincides with femininity that emerges in a world distracted by the intense sensations that Donna perfume adds to the wearer.
Tones escalate and conversations take place, summing up elegance and beauty.
Donna by Arabian Oud is well suited for all women and will satisfy all tastes.
Here we come to the conclusion of our article about Arabic perfume names
I hope you like it and thank you for reading