Arabic poems about mother. Too many Arabic poems about mothers we will discuss in this article.
The mother is the shoulder on which a person rests his head
It is the warm embrace that protects us from the cruelty of life
It is the hand that holds us before our fall
She is the heart that injects the soul into us, and the mother is the companion, friend, and heart that sincerely advises us
She is the person who is indispensable to us, even if there are many lovers and friends
It is also our first school and our guide to walking the path of life on a guided basis, with the lessons and advice it offers.
The mother bears her children for nine months and is here
And you taste in their birth the pain of childbirth that you forget immediately upon seeing them
She nourishes them from the sweetness of her milk and the essence of her soul,
Watch their growth phases with love and passion
You stay up for their rest for long nights, tirelessly or boredom.
She is the ideal and the model, moved towards her altruistic children; She is the only person who may forget to pray for herself in her prayer because she is busy praying for them
She is the one who gets tired to feel comfortable and safe
It offers them what they need without waiting for anything in return, its advantages over us are countless
The mother is the origin from which society, the family, the state, and the nation begin.
She is the custodian of men, and she is the nanny of generations
She is the whole of society as she is the one who gives birth to males and raises them to become men
She is his other half
Many mothers are working to do good for their community, her family, and the whole world
It is the mystery of existence that carries us in his body, nurtures us gently, and bears the pain and pain of our birth
She was keen on our survival and the preservation of our lives until we became as strong as we are
So he kept her up all those nights for us, and all that she offered in order to lead a happy and safe life that we are not afraid of cold, hunger, or loss, is priceless.
Mother is too great for words to describe
Deep enough to be contained in the phrases
It is the garden in which life blossoms
It is the broad embrace that accommodates the entire universe
She is the source of giving from the time she becomes a mother even after she dies
Since the child is just a sperm she carries him in her womb
She keeps giving him everything she can from her body and soul, and keenly watches him until he is born
Then you turn into a dedicated person day and night who does not know complaint, fatigue or boredom
She responds to her baby with just a nod, knowing that he needs it
Motherhood is the only thing in the world that a mother cannot take time off
Mum is a mother all the time.
The mother with the uninterrupted credit
It is she who educates and watches, and she who teaches
And if someone wanted to count his mother's favor over him, he would not be able to fulfill her right, even with a small part of what she gave.
It is sufficient for her to worry and fear, which eats from her heart whenever her children move away from her.
Arabic poems about mother
Because of all these great roles about the mother, our Arab poets did not hesitate for a single moment to praise her and wrote hundreds of poems praising her great role.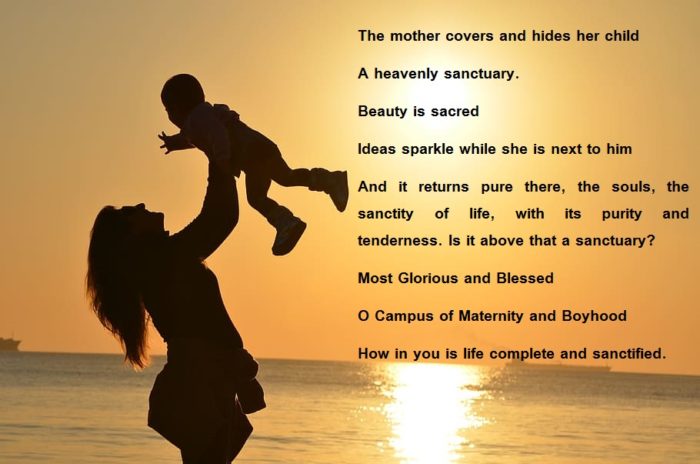 Poems by Maari on the mother
Al-Maari is Ahmed bin Abdullah bin Suleiman Al-Qudai Al-Tanukhi Al-Maari
Poet, linguist, philosopher, and writer from the Arab Abbasid era
He was called the owner of the two prisons
This is because he retired from people after returning from Baghdad until he died
He was locked into the house and locked in blindness
He wrote many poems about the mother, including:
Live in a past, be honorable
Your parents are with him and your mother is first
Calculate it with honor and charity
Pregnancy and lactation are addictive
Two things are given to everyone.
A poem about the mother by Marouf al-Rusafi
Obligations to honor my mother
My mother deserves to be honored
She carried me as a baby.
And after my pregnancy, she nursed me until the time of my weaning, and she nursed me in the dark of the night
Until I left her sleep for my sleep
My mother was the one who created me after my Lord and became a perfect person thanks to her
Praise be to her after Hamdi my God
And thanks for her over the days.
A poem by Mahmoud Darwish about the mother
Mahmoud Darwish is a Palestinian poet whose name is associated with the poetry of the homeland
He is considered one of the most important poets who developed modern Arabic poetry
And from those who introduced symbolism in it
Love of the homeland mixed in his poetry with the love of his beloved,
He has many poetic works
Among the most beautiful poems, he wrote about the mother is a poem I feel nostalgic about my mother's bread, which says:
I miss my mother to bake
And mom's coffee
And mom's touch
And grow up in childhood
Day on the chest, day in love with my life
Because if I die
I am ashamed of my mother's tears .. Take me
If you come back one day
Tighten me
With a lock
Felt a thread waving around the hem of your dress.
May I get from your garment
If it touched the bottom of your heart
If I come back
Make me fuel in your fireplace.
And a clothesline on your roof
Because I lost standing
Without your prayers I am old,
Turn back childhood stars so that I can join the birds on the path of return.
To nest where I am waiting for you.
A poem by the great Ahmad Shouqi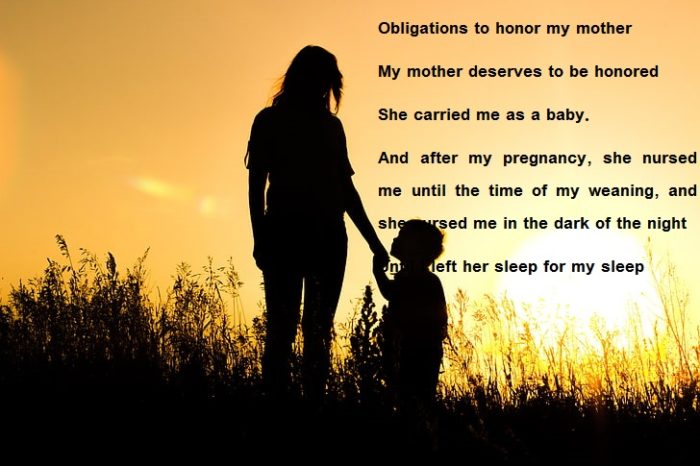 Good morning sweetie.
Good morning, my sweet saint
It's been two years, mom
On the boy who sailed
With his fabulous journey
And he hid it in his bags
His country's green morning
And its stars and rivers
Hide it in his clothes
Tarabin of mint and thyme
And a damask night
I'm alone..
Cigarette smoke bored
From me
My seat gets bored
And my sadness is as birds could not migrate.
I knew the women of Europe.
I knew the emotions of cement and wood
I knew a civilization of fatigue ..
India floated, the bond floated
Yellow floated world
I did not find … a woman
She is combing my blonde hair
She carries sugar dolls in her bag to me
And wear me if I naked
Whatever mom ..
Whatever mom ..
I am the boy who set sail and still lives the sugar doll
How ..
How come, mom
I became a father … and never grew up?
Good morning from Madrid
What is her news Fella?
I recommend it to you, mother.
That child
She was the most beloved of my father's girlfriend.
He spoils her like his child
And he invites her to his cup of coffee
He watered her and fed her.
And he covers her with his mercy.
My father died and she is still living in the dream of his return and looking for him
Around his room
And you ask about his cloak.
And you ask about his newspaper ..
And when summer comes, she asks about Fayrouz's eyes
To be scattered over his hands.
Denanara of gold.
Greetings.
Greetings.
To a house that brought us to love
And compassion to your white flowers.
To you, mom
O my dear country.
Shabbi poet in his poem
you are Blessed, motherhood
The mother covers and hides her child
A heavenly sanctuary.
Beauty is sacred
Ideas sparkle while she is next to him
And it returns pure there, the souls, the sanctity of life, with its purity and tenderness. Is it above that a sanctuary?
Most Glorious and Blessed
O Campus of Maternity and Boyhood
How in you is life complete and sanctified.
Arabic poems about mother, Hafiz Ibrahim said
A mother is a school if you set it up 
you prepare good people for the races.
The mother tamed his vivid pledge
to irrigate whatever spills.
The mother is the professor of the mechanical professors.
The mother preoccupied them with their exploits with great potential.
Ibrahim Al-Mundhir said
A man tempted one day a foolish boy
With his money until he gets it bad.
He said, bring me the heart of your dear mother, boy
And you will get the jewels, dirhams, and pearls.
So he went and sheathed a dagger in her chest
And the heart brought it out and came back on the effect.
But he was so amazed
The distressed heart rolled.
Mother's heart called him when he was forgiven
My son, darling, did I harm you?
As if this voice despite his affection
Heaven's anger poured over the boy.
He drew his dagger to stab himself.
Stabbing will remain a lesson for those who are considered.
Mother's heart called him, stop it worse
Do not stab my heart twice on the effect.
Abu Al-Alaa Al-Maari said
Life goes on quickly so honor your parents with it
Mother is the first with honor and charity.
And then pregnancy and lactation addicted to it
Two things are given to every human being.
Arabic poems about mother, Farouk Jweideh said
In the corner, the mother's face looks like I can't see
Because it inhabited delinquencies for years.
If the eye neglects a little, it does not see
But he who dwells in raptors will not be absent
If it disappeared like all absentees.
My mother's face appears in front of me
Whenever the winds of sadness intensified
The forehead trembled
People travel in the eyes and disappear
And it becomes sadness in the ribs
A shiver in the heart, pounding every once in a while.
But she is my mother. Life passes by. I live in her and she lives with me.
Shadows float softly over the sad heart.
Since we split up and how far around me
Narrows
Everything after Omar Dhanin
With the days it became a nice thing
He does not miss and does not show
A spectrum we call nostalgia
Arabic poems about mother, Abu Suhaib said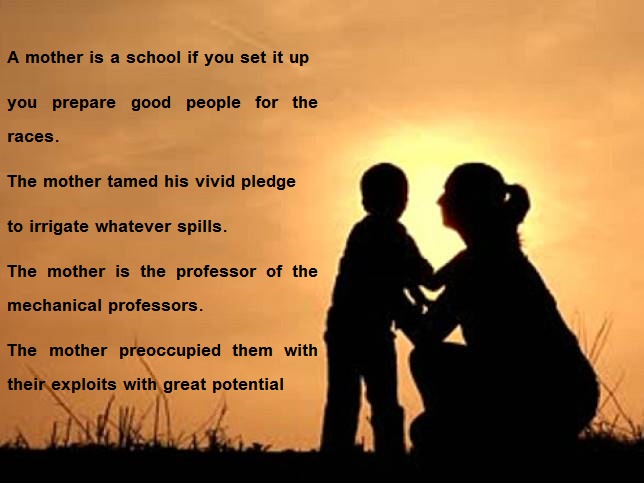 The mother is the basis of all matters
The mother of the villages, the mother of the book, and other things
Spring with all goodness, pure water
From this source is tenderness, and from her heart
The warmth of motherhood have you found like it
You feel all safety in her bosom
She was your bearer in pain and at birth
She measured and almost perished
O pregnancy heartbreak how much she faced
If pregnancy and breastfeeding were a burden on mountains, this would guide them
How much she endured, but in an instant
Forget worries if she saw her baby
How long she has been through breastfeeding and nursery
How much she struggled to grow old
No matter how healthy you search for food
She breastfed the best food for her child
How much she stayed up at night if he had cried
She took pleasure in her sweet sleep
O her sadness if he did not sleep from a cause
Sick next to him calling her Lord
She cries if she is unable and for a long time
And she would hope if she would redeem him by herself
Here we have come to the end of our beautiful article on Arabic poems about the mother.
Thanks for reading, dear reader.
Hope you like it.
Always remember to please your mother, because by losing her, you will lose a lot
You will never feel this in her life
Love her, respect her, and do everything for her comfort.