50 famous Syrian proverbs, In this article, we will talk about some Syrian proverbs.
Proverbs are one of the most widespread and common methods of popular expression.
No culture is devoid of it, as we find it reflects the feelings of people of all classes and affiliations.
It embodies its ideas, perceptions, customs and traditions
Its beliefs and most aspects of its life are alive and in a comprehensive human sign,
As such, it is the sap of the wisdom and memory of peoples.
Proverbs are characterized by their rapid spread and circulation from one generation to another, and their transmission from one language to another across times and places.
Also, to the brevity of their text, the beauty of their pronunciation, and the intensity of their meanings.
Arab's proverbs and the West alike have received attention.
The attention of Arab writers to this expressive genre had a distinctive character, given them the importance.
Popular proverbs have a great literary value.
The early Arabs recognized the value of this eloquent linguistic treasure, so they collected it in books of proverbs.
1- The Collective of Proverbs by al-Midani
The Investigator in Proverbs of the Arabs by Zamakhshari.

A collection of proverbs for al-Askari.

And other books.
50 famous Syrian proverbs describe our society
The bad person does it and the good person experiences the consequences.
This proverb means that the innocent always bear the guilt and the consequences of the wrongdoing of what someone else does.
Do not teach your son lessons, life can do that.
He means by this proverb that life is capable of teaching lessons to your son, so do not try to tell him in vain.
Halima is back to her old habit.
This means that a person cannot dispense with or abandon his habit, or that he has returned to the practice of a bad habit that was abolished long ago
His father has onions and his mother is garlic, from where did the good smell come?
This proverb means that a person is like his family, if they are good then he will be good, and if they are evil then he will be like them.
Her father is satisfied and I am satisfied and you are the one who asked for your opinion, Judge
The proverb means that no one interferes in the affairs of others and does not give its opinion unless when asked to do so.
Those who are ashamed of died.
That is, when hardships, people are not accused of their actions, because if they do they will be subject to death, and there is no shame if fate will be death.
Feel responsible for something you buy and don't feel responsible for something you're selling.
That is, buying is difficult and selling is easy. Buying is difficult because you will not be able to buy it unless you have sufficient funds for it and selling is easy that you have dispensed with.
If you are not a wolf, you will be eaten by wolves.
This example indicates how difficult life is, as it is in constant need of a strong and intelligent person who can deal and adapt to the tricks and intrigues of people.
An ear of clay and an ear of dough.
This description is made for someone who is indifferent and does not listen to the advice and guidance of others.
famous Syrian proverbs
The fingers of your hands are not all the same.
This proverb is used to explain that you cannot judge a person based on another person's behavior because not all your fingers are the same
Eating and drinking while riding the donkey.
It refers to the irresponsible person who is only proficient in eating, drinking, and sleeping
If your neighbor is pious, he will guide you, and if your neighbor is a rogue, he will be against you.
It is used to describe the influence of a neighbor on your life. If the positive would affect well and the negative would be negative.
They said to the spinster, "Get a groom!"
This proverb indicates the degree to which young men and women have had a lot of false promises
April rain refreshes the human heart.
Indicates the positive effect of the rains that fall in the month of April, which are light rain, accompanied by a refreshing breeze
Bird pigeons without water
It is used to describe a group of people who are annoyed and often very mobile
He who has a thorn pokes him.
It is used when two are talking about a negative adjective issue and suddenly they mention an adjective present in a third person, and you find the third has been agitated
Talking is the soap of hearts.
It shows the effect of sweet, sweet talk on people's lives, as it has been likened to detergents.
A thousand eyes cry and my mother's eye does not cry.
It shows the importance of a mother's feelings in a person's life. He prefers the crying of all society except his mother
He who is one day older than you knows a year more than you.
That is, the experience is related to age, and the older a person is, the more knowledgeable you are in this life.
The hair of a pig tail is a gain.
It refers to an opportunist person who seeks to obtain everything and can never become content
He fasted and broke his fast on an onion.
It indicates the small result after very great fatigue, as to fast for a week and eventually eat an onion
Give the baker bread even if he eats half of it.
It indicates that when you want to do a job, do it with a professional who specializes in your work, regardless of the cost
Entering the bathroom is not the same as leaving it.
It indicates that when you are doing something you should consider all the pros, cons, findings, action plan, and everything related to it.
The most famous Syrian proverbs
A rose gives birth to a thorn.
That is, it is not a requirement that if the parents are good then the children can also be bad
Like he who cannot hear at a wedding party
This proverb is very common in our society describing the situation of a person standing in a place where he does not understand anything about what he is seeing around him
He does not like the wonder or fasting in the month of Rajab.
Describes a person who does not like anything at all, no matter how positive it is, and always wants the best, but in an exaggerated manner, his thinking is negative.
Like who brought a bear to his field.
Describes the case of a person who introduces people who are not compatible with him or are negative and in our society it is often used to describe a person who is about to marry
He who gave birth did not die.
It is used when a person comes and does a positive act, and people thank him for him, and it is like his father who died in his morals and the meaning of the proverb is that morals last when inherited
Cut off necks and do not cut livelihoods.
That is, kill someone is better than preventing him from working and supporting his family
Do not buy fish while it is in the water.
It is used when a commercial transaction is concluded and the buyer feels that he will be exposed to fraud, so this proverb is said to infer more about the deal
Attach the donkey to where its owner tells you.
In other words, do not interfere with the work of others, as every person knows his profession and knows more about it than you know
Vinegar for free is better than honey with money.
Here it shows the state of our society, which always thinks that everything cheap is better than expensive and if it is free then it is better
A very common proverb indicates a person who wants everything quickly
Make the bean size the same as the dome size.
It refers to people who exaggerate problems and matters to a large degree despite their simplicity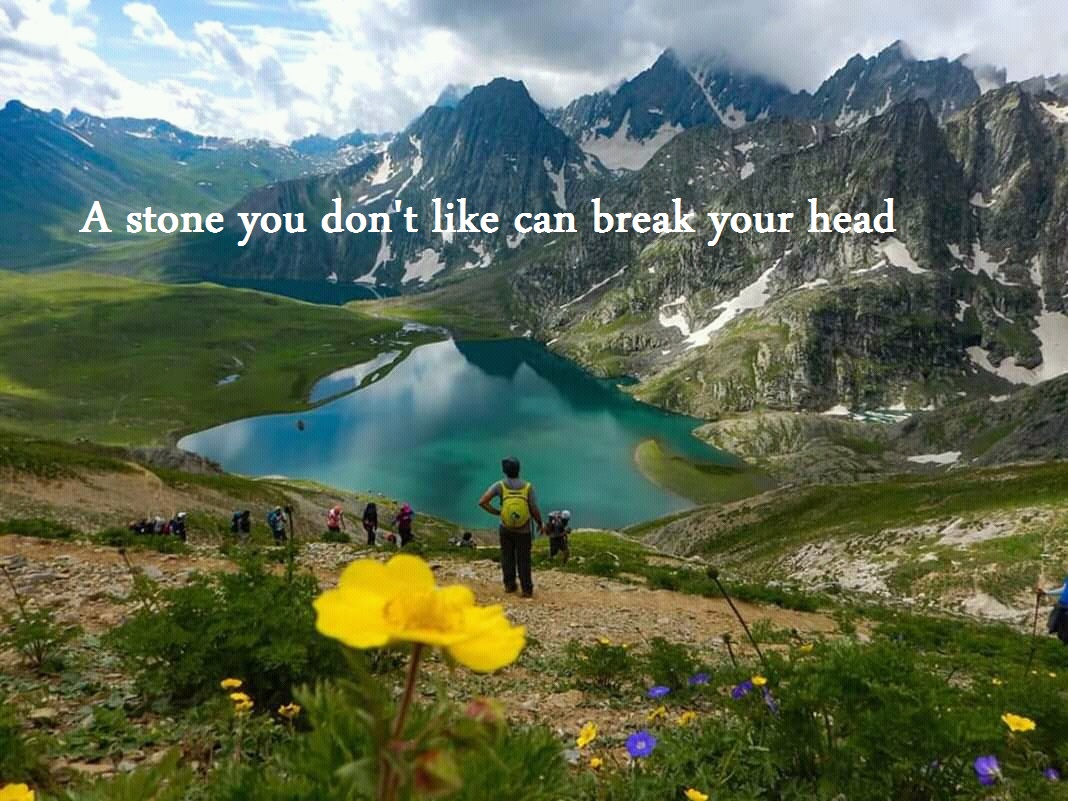 Syrian proverbs
In front of you like a mirror and behind you like a shoe.
Refers to two-faced people who talk about you well when they are with you and when they are with others they talk about you badly
A boy will remain a boy even if he becomes a country judge
The word boy refers to a person with childish or useless thinking and the meaning of the proverb is that no matter how high he is, he will remain the same.
The neighbor is before the house
It indicates the importance of the neighbor in a person's life to the point of being preferred over the house which is the person's shelter.
An eternity is a day with you and a day against you.
That is, this life has good days and bad days, and you must adapt to all of them.
He came to make up for her, and he blinded her.
A very popular proverb refers to a person who comes to fix a problem and makes it worse than before.
Sayings of a coward, nor a saying of God have mercy on him
A proverb refers to a person who avoids things that are very dangerous to his life, and people divide him into two parts, either by describing him as a coward or a conscious
A stone you don't like can break your head.
You should not underestimate the value of something in life, anything that has many aspects that you do not know.
Whoever believes in men, like the one who believes in water with a sieve.
A popular proverb among women indicates a lack of confidence in a man, no matter how positive he is because every man has his mistakes.
He wrote on the Gate of Heaven: mother in law will not love daughter in law.
This proverb indicates the great hostility between the two parties, which is widespread in society
The most beautiful Syrian proverbs
A girl's tongue, like her hair, needs to be cut every so often
This example describes the condition of some rude girls in society and the length of the tongue is a term that indicates rudeness (such as the length of the hand which refers to theft)
They must be reprimanded every once in a while
The ugly girl would still be ugly if she'd been wearing makeup for a week.
A common proverb among girlfriends who hate a certain girl, so whenever they see her they release these proverbs (often, she is more beautiful than them).
Life without a sister is like a street without aspiration
This example shows the role of a very old sister in life. Life without a sister is like a barren desert with no good
We thought of them cheap, got out for free.
It means that you thought a very bad person, but it showed that it is worse than you imagined
My son is my son until he can marry, and my daughter is my daughter forever.
This proverb indicates that in our life we notice that when a young man gets married, he is very likely to forget his family and visit them only a little while the girl is more loyal after her marriage.
The blind person is not a husband.
This parable invites us to thank the Creator for the blessings he bestowed upon us.
The sea is not clouded by a water wheel.
The positive person will not be affected by a simple negative thing.
here, we arrived at the end, a lot of respect for all person wrote any proverb describe our society well.